Rumors about the possible cancellation of the beauty pageant with the most beautiful women have been taking strength during these past days. Alfredo Barraza, one of the country's most renowned designers, said that the beauty competition is "stalled".
He added that the celebration of Miss Universe is a "maybe", since the lack of a host city, and a date in a high season would raise considerably the costs of the event, which is why the Trump organization could be considering in holding the pageant next year.
"Countries that had already chosen their beauty queens sent them to the Miss World competition instead, due to the lack of confirmation on the Miss Universe pageant's date. I have been confirmed that the event, due to the planned date, could raise the costs of production. And if it takes place indeed in December, the winner would only reign for five months, because there are already plans of holding the 2013 edition in May", said Barraza.
He also mentions that possible host cities do not have the infrastructure to welcome the pageant in December. "Las Vegas, for example, is completely full. Other cities in consideration wouldn't have the capacity to host so many people who travel to this pageant".
On the other hand, Raimundo Angulo, president of the Concurso Nacional de Belleza (Srta. Colombia, whose winner competes in Miss Universe) said that he hopes he gets an answer from the Miss Universe Organization in less than ten days, confirming a date and a venue. But he also said that he is no longer sure that the contest will take place in December, as scheduled.
"During the next days they should be confirming the date and the host country. I don't want to speculate about this situation. I wish the pageant would take place because it's important to us. Our organization is eagerly waiting for this information. Meanwhile, Daniela Alvarez (reigning Miss Colombia) continues her preparation for the pageant as planned".
If the Miss Universe competition takes place, Daniela Alvarez will represent Colombia, although a new Senorita Colombia will be chosen this November in Cartagena.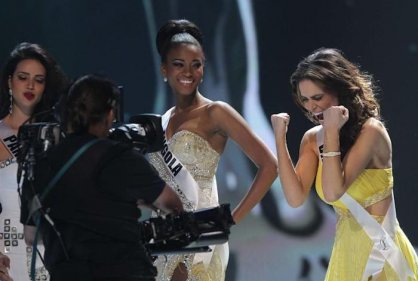 Rumores sobre la posible cancelación del certamen de las mujeres más bellas del mundo hacen más eco por estos días. En RCN La Radio, expertos contaron por qué la celebración está "embolatada".

Desde el año 1952, anualmente y sin falta, la organización Miss Universo realiza su certamen mundial; que tiene como objetivo mostrar la belleza de las mujeres del planeta en majestuosas y elegantes celebraciones, sin embargo, el reconocido diseñador y preparador de reinas nacionales e internacionales Alfredo Barraza dijo que este año el concurso está en veremos, pues la falta de sede y la fecha de temporada alta subirían considerablemente los costos del certamen, por lo que Donald Trump estaría pensando en dejar la celebración para el próximo año.

"Países que ya tenían escogidas las niñas para Miss Universo prefirieron mandarlas a Miss Mundo debido a la no confirmación de la organización de Donald Trump de la fecha del certamen (…) Me han confirmado que el evento, por la fecha (temporada alta) podría subir los costos promedios de la celebración (…) Y de realizarse en diciembre, la ganadora sería soberana solo por 5 meses, porque ya tienen pensado retomar el concurso en mayo de 2013"

La casa del evento, Estados Unidos, está dispuesta a albergar a las candidatas. Pero al parecer "dejaron todo para última hora" y en el estado de Nevada (que se había anunciado como posible lugar de realización del concurso) no hay cupo total para albergar a las miles de personas que asisten al reinado.

"Las Vegas, donde se pensaba realizar, está con lleno total. Se han pensado en ciudades pequeñas, pero no tendrían la capacidad para albergar a las delegaciones"

Por su parte Raimundo Ángulo, presidente del Concurso Nacional de Belleza, dijo que espera que en menos de 10 días esté recibiendo una respuesta de parte de la organización Miss Universo con la confirmación del día y la fecha, sin embargo, afirmó no tener la certeza de que se realice en diciembre como se tenía pensado.

"En los próximo días me estarán confirmando la fecha y el lugar. No quisiera especular sobre la situación, quisiera que se diera la celebración porque es muy importante, solo quiero esperar porque la organización está muy pendiente de esta respuesta. Mientras, Daniela Álvarez sigue su preparación común y corriente para el certamen".

De llevarse a cabo, será Daniela Álvarez (actual Miss Colombia) quien concursará por Colombia, aunque entregue la corona en noviembre en Cartagena.